Affordable Skiing: Vaujany and Alpe d'Huez vs Eastern Europe
The Alps need no introduction in the ski world. French alpine resorts like Vaujany and Alpe d'Huez have long been a magnet for winter sports enthusiasts from around the globe. With their breathtaking landscapes, diverse terrains, and world-class facilities, they offer veteran skiers an unparalleled skiing experience. Ready to go? Complete this short survey or Book now here.
Novice skiers who are yet to master the secrets of the snowplough may however find ski resorts in Eastern Europe just as good. Bansko and Zakopane in particular are excellent locations for beginners to learn for a fraction of the cost of a ski holiday in the Alps, as also written by SnowSunSee. In this article, we'll showcase the differences between Vaujany and Alpe d'Huez on one hand, and Bansko and Zakopane on the other.
The Pros of Vaujany and Alpe d'Huez
Pristine and Picturesque Landscapes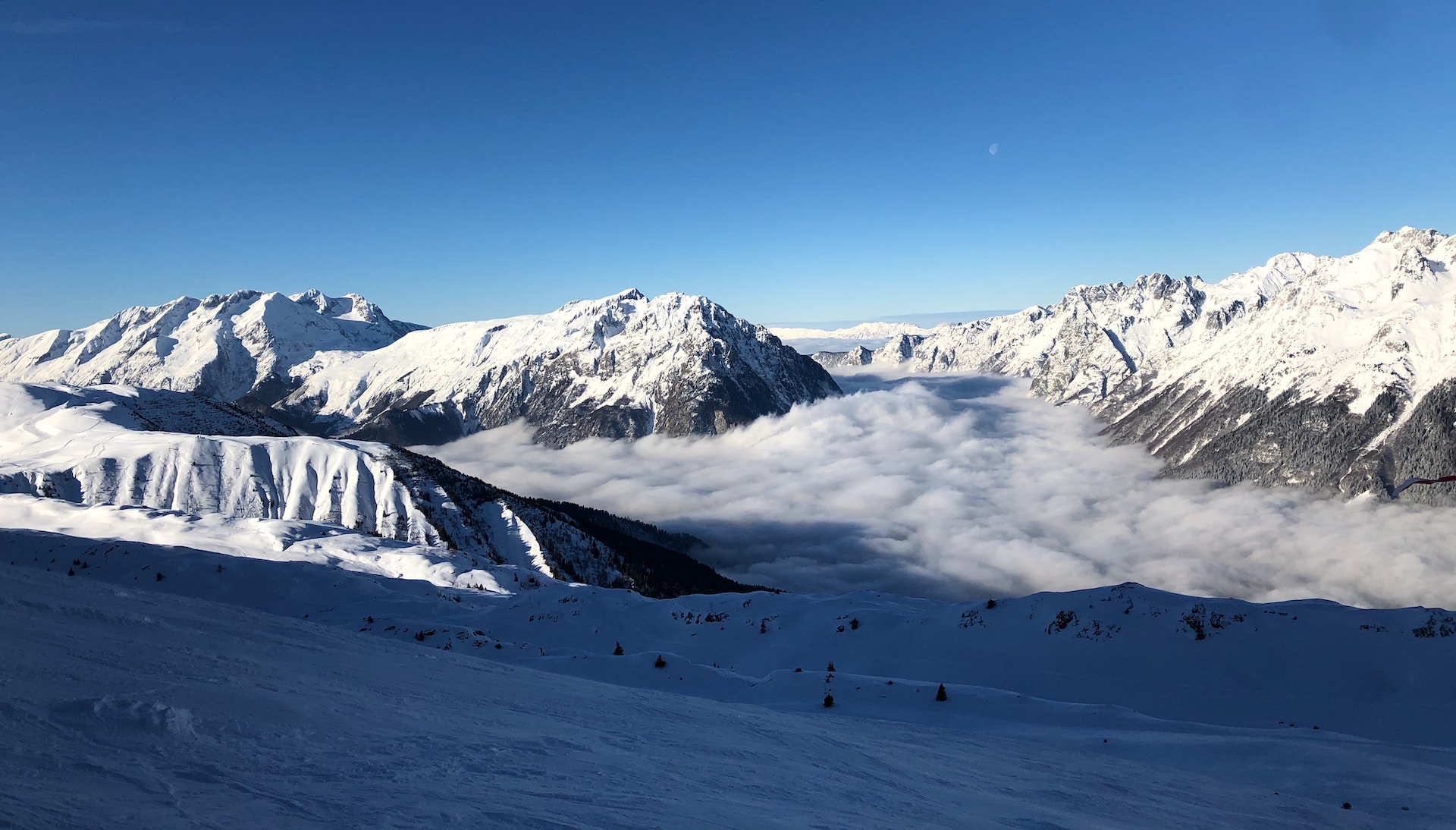 Vantage point from Alpette
Nestled in the heart of the French Alps, the scenery in Vaujany and Alpe d'Huez will leave you breathless, especailly considering you can ski as low as 1100m in protected valleys. The neighbouring peaks tower over, draped in a blanket of pristine white snow, and reach out to the clear blue skies, creating a picture-perfect setting that leaves visitors spellbound. They say you can see a fifth of France on a good day from the highest point of Pic Blanc @ 3300m altitude (with binoculars perhaps). This is testament to the awe inspiring location and vantage point over the Vercours to the West, Maurianne valley to the North, Italy to the West and Maritime Alps to the South.
Massive Ski Area and Off-Piste Opportunities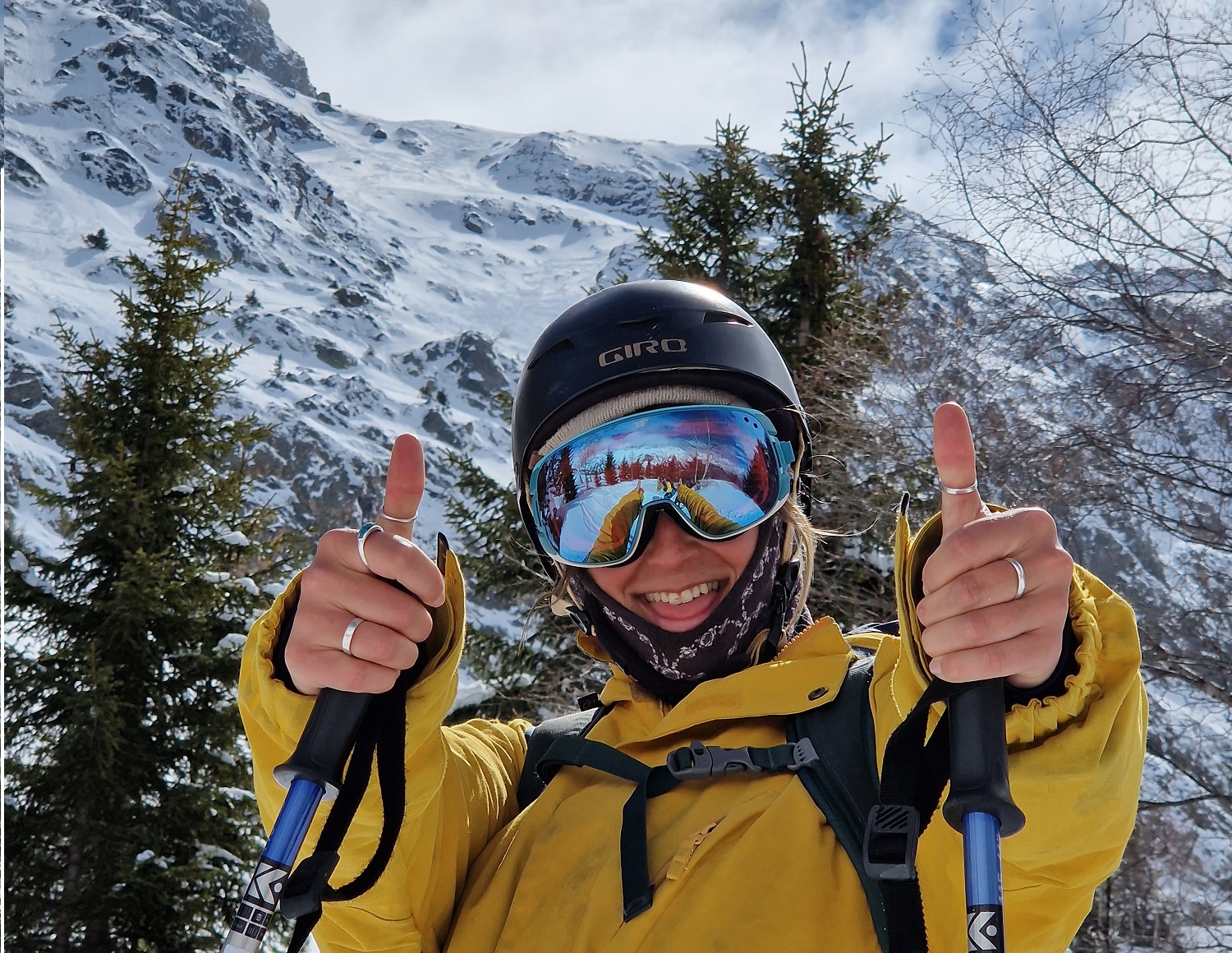 Happy days on the mountain
While Vaujany is the quieter and more family-friendly, the whole Grandes Domaine resort boasts 250km of diverse vertical ski terrain and is a paradise for adventurers. There are slopes suitable for skiers of all ski levels but experienced skiers in particular can truly get the most out of skiing there with some of the best black runs in Europe. Notably Le Tunnel and La Sarenne. The former has a connecting tunnel, piercing through the top of the mountain to get to the descent on the other side. The latter (La Sarenne) is the longest black run in Europe at 16km... it will keep the best on their toes throughout the run! Both these runs start at the very top of the resort at Pic Blanc. The lower slops are more gentle and accessible, perfect for beginners and families wanting to ski together (also closer to the restaurants for food and breaks).
Availability of Luxury Accommodation and Services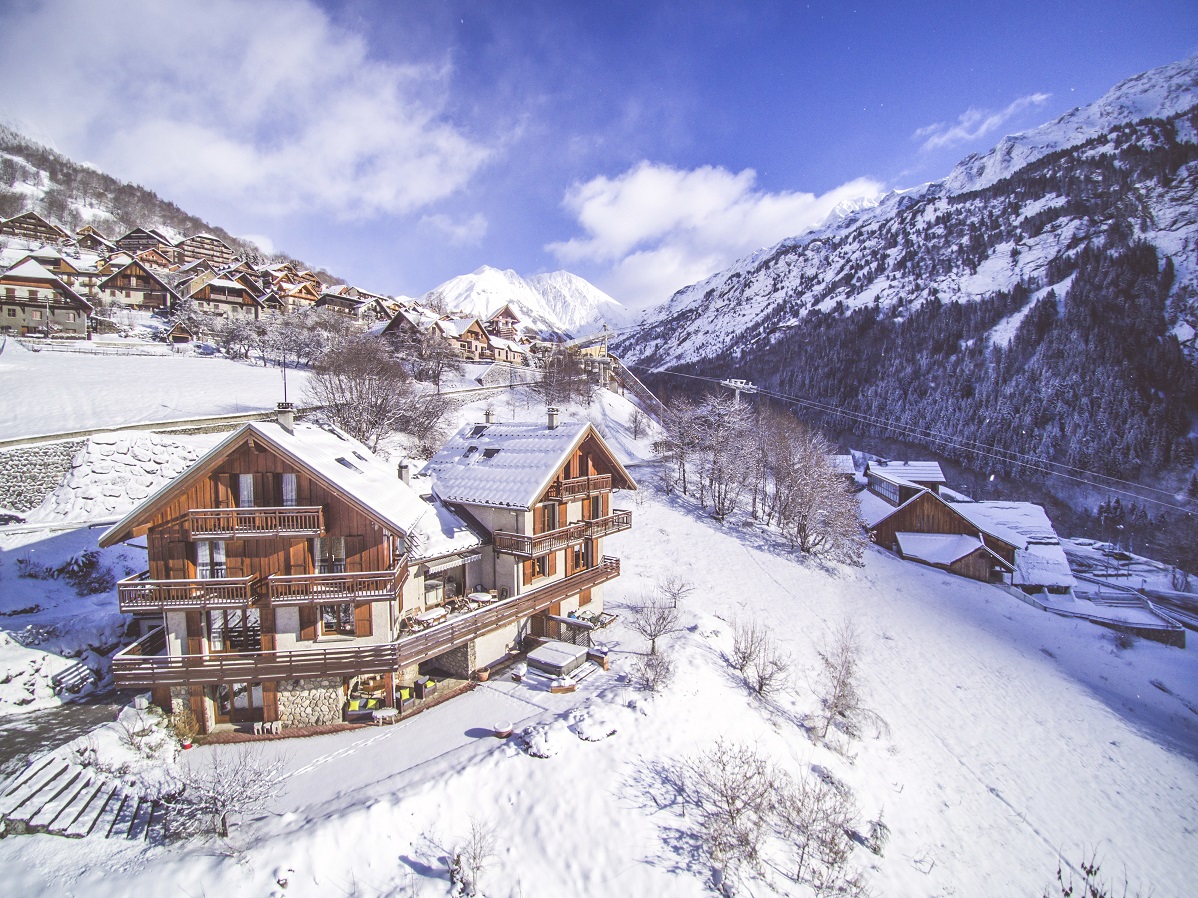 Hot tub, Spa, games room, terraces... what more could you want?
Among other things, the French Alps are world-famous for catering to more acquired tastes. Luxury ski chalets, helicopter skiing, and Michelin restaurants are typical parts of the local scenery and ensure a comfortable and memorable stay. If you've heard enough already and are ready to get the wheels in motion, fill in our enquiry form or Book now and get excited. You can even find cheaper lodgings on various sites but then use services such as The Chalet Chef, who provide a private chef to come to your residence and cook for you, in the comfort of your own chalet, wherever it may be!
The Cons of Vaujany and Alpe d'Huez
Can Get Crowded During Peak Season
Like any ski resort that's worth its powder and has made a name for itself, Vaujany and Alpe d'Huez are a delight to visit but can get quite crowded during the peak season. Sometimes, that characteristic tranquillity gets replaced by a hustle and bustle on the slopes.
High Costs
While Vaujany and Alpe d'Huez are relatively cheaper than other more luxurious French alpine resorts, they are still a bit steep on the pocket, especially for people on a tighter budget.
Beginners May Not Get a Lot of Bang for Their Buck
While these resorts cater to all levels of skiers, beginners might feel they're not getting as much value for their money. That's because they'll likely spend the better part of their holiday at the starting areas until they build up confidence and experience to ski safely, while still paying for the whole deal.
The pros of skiing in Bansko and Zakopane
Variety of family-friendly slopes and picturesque landscapes.
Zakopane
Zakopane is nestled in the gorgeous Tatra mountains, located in the South of Poland, while Bansko sits amidst the Pirin mountain's nature park. Both locations offer pristine natural conditions and an abundance of picturesque scenery.
Elevated between 925m and 2560m for Bansko and 1,014m and 1,987m for Zakopane, both resorts boast a variety of terrains suitable for skiers of all ski levels. Zakopane is smaller and less developed than the two, but its slopes are almost exclusively dedicated to beginners with a few exceptions, while Bansko offers multiple advanced slopes as well. Zakopane does have one major advantage over Bansko with regards to night skiing, as floodlights ensure skiers can enjoy the slopes from 9 am to 9 pm every day. However, off-piste ski adventurers in Poland would do well to learn about avalanche safety protocols in the Tatras.
Affordable prices
Traditional Restaurant in Bansko
Price is without a doubt, one of the biggest factors that guide ski enthusiasts toward Poland and Bulgaria. From ski passes, equipment rentals, lessons, catered chalets, restaurant meals, or alcohol, prices in Bulgaria and Poland are simply lower. Also, prices for open thermal pools with mineral water start from just a few quid, and both Bansko and Zakopane are abundant in geothermal springs.
| | | | |
| --- | --- | --- | --- |
| Item | Price in Bankso | Price in Zakopane | Price in Alpe d'Huez |
| Beer | £2-3 | £3-4 | £4-8 |
| Lunch for a family of 4 | £30-50 | £40-60 | £60-100 |
| Six-day ski pass (adult) | £230 | £150 | £255 |
| Six-day ski pass (child) | £90 | £100 | £155 |
| Private ski lesson (one hour) | £25-35 | £25-35 | £30-80 |
| Renting ski equipment for a week | £50 | £50 | £90-110 |
| 10-minute taxi drive | £5-10 | £5 | £15-20 |
| Family hotel room per night | £30-100 | £30-120 | £100-400 |
Typical prices in Bansko and Zakopane vs. Alpe d'Huez (in 2023)
Cultural Experience
Kulig sleigh ride
Bansko and Zakopane both carry a rich and diverse cultural heritage. Both towns are located in semi-isolated mountainous regions that boast unique architectural styles, craft workshops, rustic traditional restaurants, national garbs, as well as delicious cuisine. You can check out some of the most iconic dishes of Bansko and Zakopane. Without a doubt, one of the most iconic cultural elements of Zakopane is the Kulig sleigh ride, beloved by all and especially by children.
The Cons of Bansko and Zakopane
Gondola Queues and Ski Crowds
When it comes to ski infrastructure and lifts, Zakopane and Bansko lag behind the Alps. Often, this results in long wait times for the main lift in Bansko, but there are a few things you can do to avoid the gondola queue. Moreover, during peak season, both locations fill up with skiers, and the slopes can get crowded around February mid-term.
Limited overall number of slopes.
The areas around Bansko and Zakopane both boast around 90km of ski runs of all difficulties. While those are more than most beginners can handle, veteran skiers might find skiing down the same advanced slopes somewhat repetitive. However, those wishing to challenge themselves can explore ski touring in Pirin and the Tatra mountains.
Variable Snow Conditions
Considering the lower altitudes of Bansko and Zakopane compared to the Alps, it's no wonder that snow conditions are not as reliable. Although not a problem during the middle of the season, warm winters have made the ski conditions at the start and end of the ski season somewhat problematic. However, even if winter fails to bring the snow on time, both resorts have excellent snow cannon coverage, with Bansko having 90% of its slopes covered, while Bialka Tatrzanska has 100%!
Considering the cost factor for beginners
Thermal Spa in Bialka Tatrzanska (Zakopane)
You could argue that when it comes to skiing in the Alps vs. skiing in Eastern Europe, you get the quality that you pay for. While resorts in the East are cheaper, the quality of the infrastructure and services is notably higher in the Alps.
However, as a beginner, the reality of your first ski holiday is that you'll spend as much time falling down and getting back up as you will do actually skiing. Before you build up some confidence and stop being a danger to yourself and others, you won't go anywhere near all the epic runs that your experienced friends won't stop talking about.
Moreover, if you've never skied before, there's no guarantee that you will fall in love with it at first sight or that your knees won't disagree with skiing completely. All in all, it makes sense for beginners to learn how to ski on a budget before they break the bank for a ski holiday they won't be able to make the most of or even worse, not enjoy.
The Verdict
Vaujany and Alpe d'Huez on one side, and Bansko and Zakopane on the other, cater to different types of skiers. The Alps are iconic for their high quality of services, superb infrastructure, and hundreds of kilometers of ski slopes. Whereas ski resorts in Eastern Europe are smaller, more rustic, and culturally diverse. Ski connoisseurs would likely appreciate the Alps better, whereas ski beginners and adventurers would likely enjoy exploring Bansko and Zakopane more.