Travelling By Train To The Alps
When you think of skiing and travel, you automatically think about what flights you should look at purchasing. But should you not also be considering other options such as driving or taking the train? There are many reasons for and against all options and in this blog we're exploring taking the train, which is now all that easier for everyone with a new service from Ben's Bus.
Eurostar at London St Pancras by Eurostar Creative
Carbon Footprint
Have you ever thought about your personal carbon footprint? Air travel opens up so many international doors and is the only viable way to travel huge distances such as to Asia but the Alps is relatively close and can be reached in various other ways. Travel has an everlasting effect on our planet and it is up to us to be aware of and to reduce this impact where possible.
Airplanes are getting more reliable, engines are becoming more fuel efficient and the fuel being burned is now cleaner. The impact that individual planes have on the environment is less than it used to be. However, there are more planes in the sky than ever before and with that number looking to increase in the years to come they need to do more. For the time being we need to look at other options... Step up the ski train!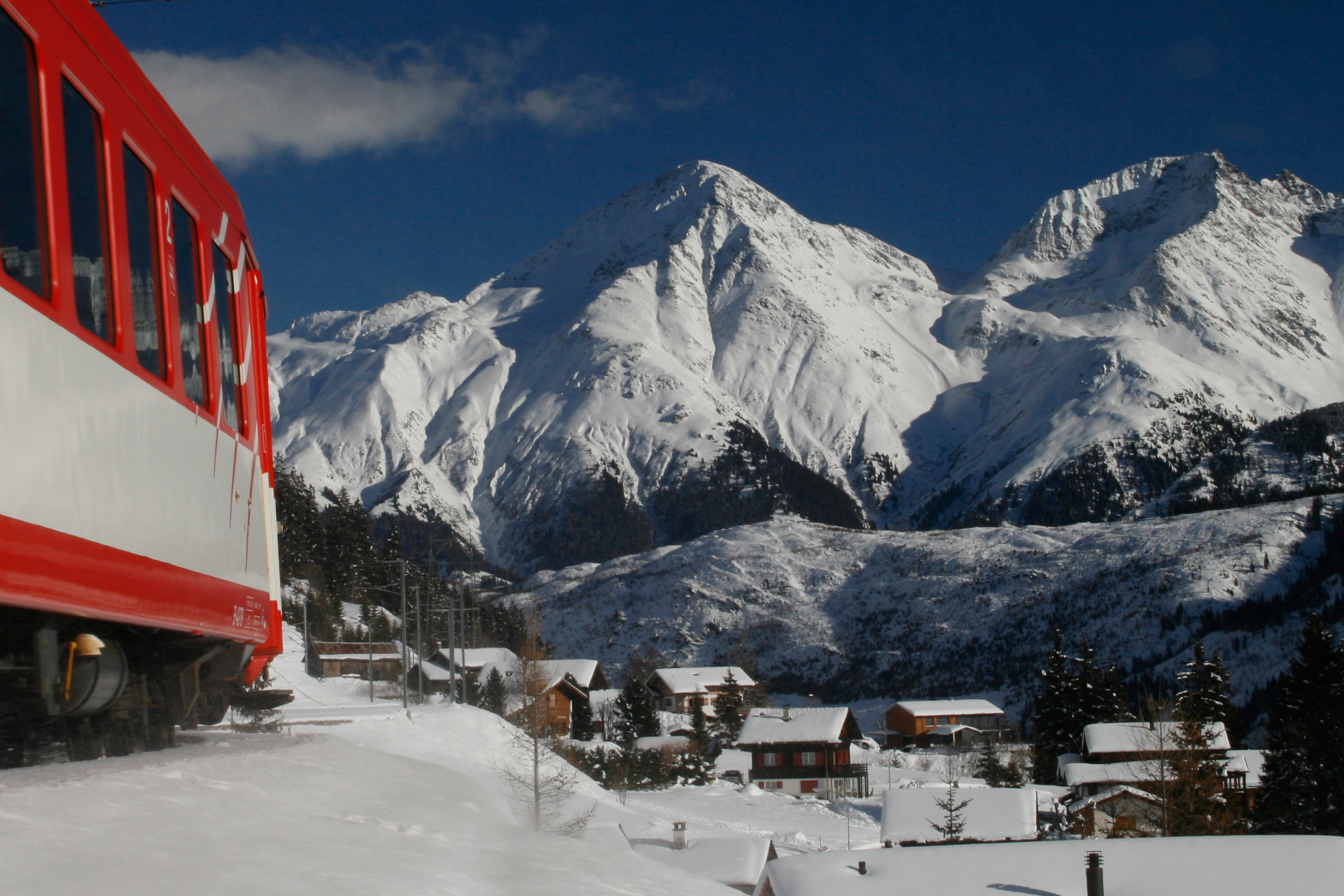 Train in snow by Daniel Elkan
Snow Carbon and Ben's Bus
Our friends at Snow Carbon have been rallying people to use the train system for years. So much so that they have petitioned for more trains over more routes over the past years. This week they have launched a new shared-transfer service, the Paris Ski Shuttle, to help skiers connect between Eurostar and TGV trains. This will add a useful piece of transport infrastructure to help make rail journeys to the Alps via Paris even easier.
This is very useful for anyone who wants to travel by train via Paris, particularly large groups, families and those who have a lot of luggage.
The service, offered by Ben's Bus, will run every Saturday from 3rd Feb - 7th April 2018, linking specific, popular trains. We've added a graphic below showing the train schedules that the transfer connects. You'll see that it connects the 07:52 Eurostar from London to Paris, rather than the 08:31, because this gives a far more comfortable connection time for the 12:45 TGV departures.
NB: rail company websites usually offer only the 08:31 Eurostar paired with the 12:45 TGV - which gives a rather short connection time.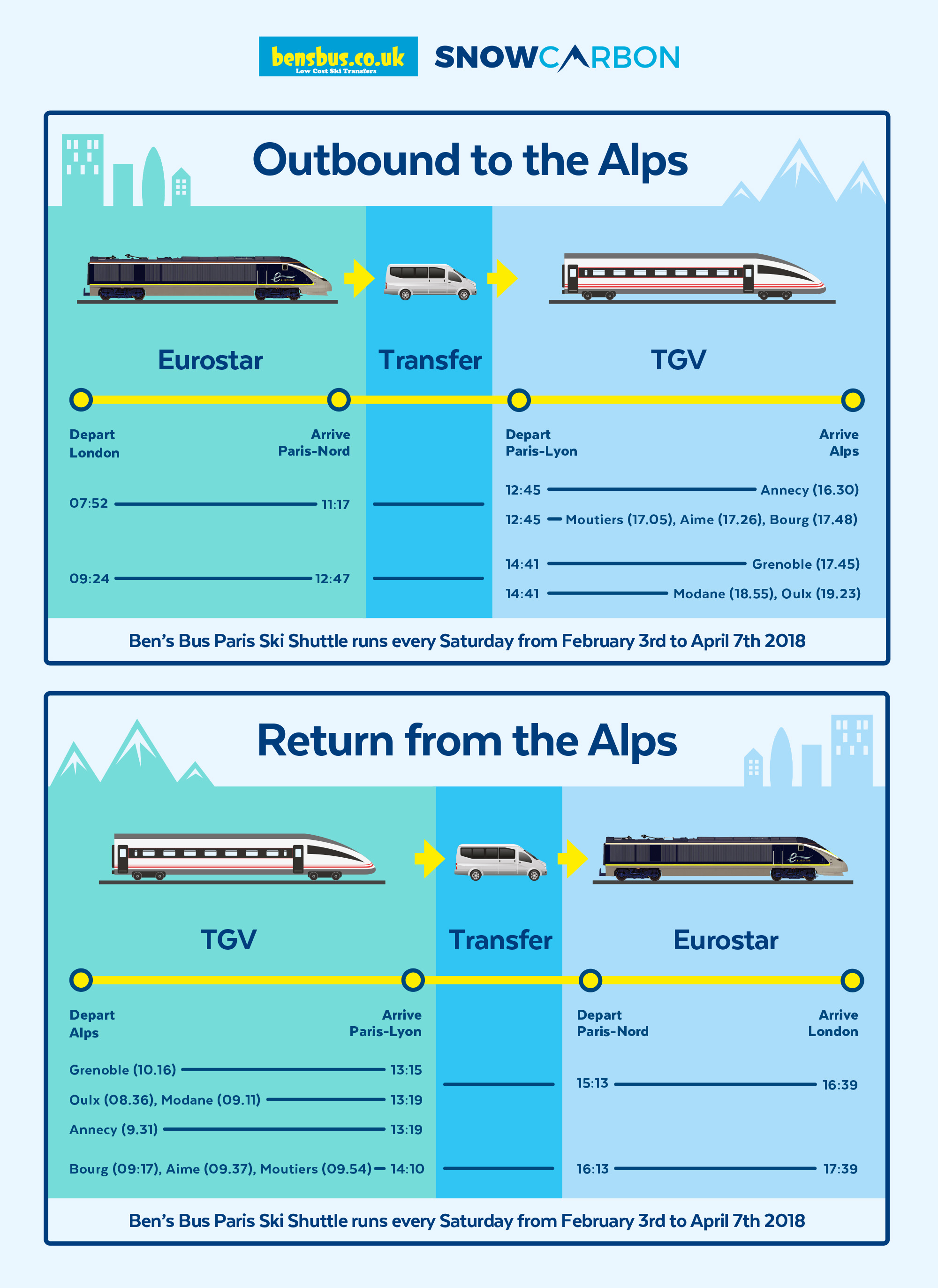 Ben's Bus Paris Ski Shuttle Schedules
The Service and schedule
Skiers arriving by Eurostar into Paris Gare du Nord will be greeted by a Ben's Bus rep at the end of the Eurostar platform and driven to Paris Gare de Lyon, from where they depart for the Alps by fast TGV trains. The transfer takes around 20 - 25 minutes. There is no limit or charges for luggage, including skis and snowboards.
Gare de Lyon by Daniel Elkan
When Is it running and how much?
The service will run every Saturday from 3rd February to 7th April 2018, with plans to run it every week for the entire season in 2018-19 You can see the schedule of the trains that it services, in the graphic above.

A return transfer costs £22 and a one-way transfer £14, with 10% discounts for children and a further 10% discount for groups of four or more. This season is all about creating a viable and useful service, depending on it's success they may look to offer more options in future years
Gare de Lyon by Daniel Elkan
More information about the Ben's Bus ski shuttle can be found here. Bookings open on Wednesday 15th November 2017 at 9am.
You'll also find Snow Carbon's guide to changing stations in Paris here:
To Resort
From the train station you then need to get to Vaujany! We can organise a taxi for the final stretch of your journey or you can get a public bus to Rochetaille. Vaujany is a mere hour away from Grenoble train station and taxi to the comfort of your chalet costs €160. If you're in a group of 6-8 this is peanuts! For more information on taxi's and public bus please have a look at our 'getting there' page
Have you booked your travel out to resort yet?