9 Things I'd Tell Someone New to Skiing
I often feel sorry for people who aren't lucky enough to experience the thrill of a winter holiday on the ski slopes. Spending a weeks holiday skiing and/or boarding on the mountain brings the story to another level. From snowy mountain peaks, to Christmas markets and New Year fireworks, a winter getaway has a lot to offer...
If you're lucky enough to experience your first adventure on the snow this winter, you might find these tips useful. Thank us later!
Night-time Driving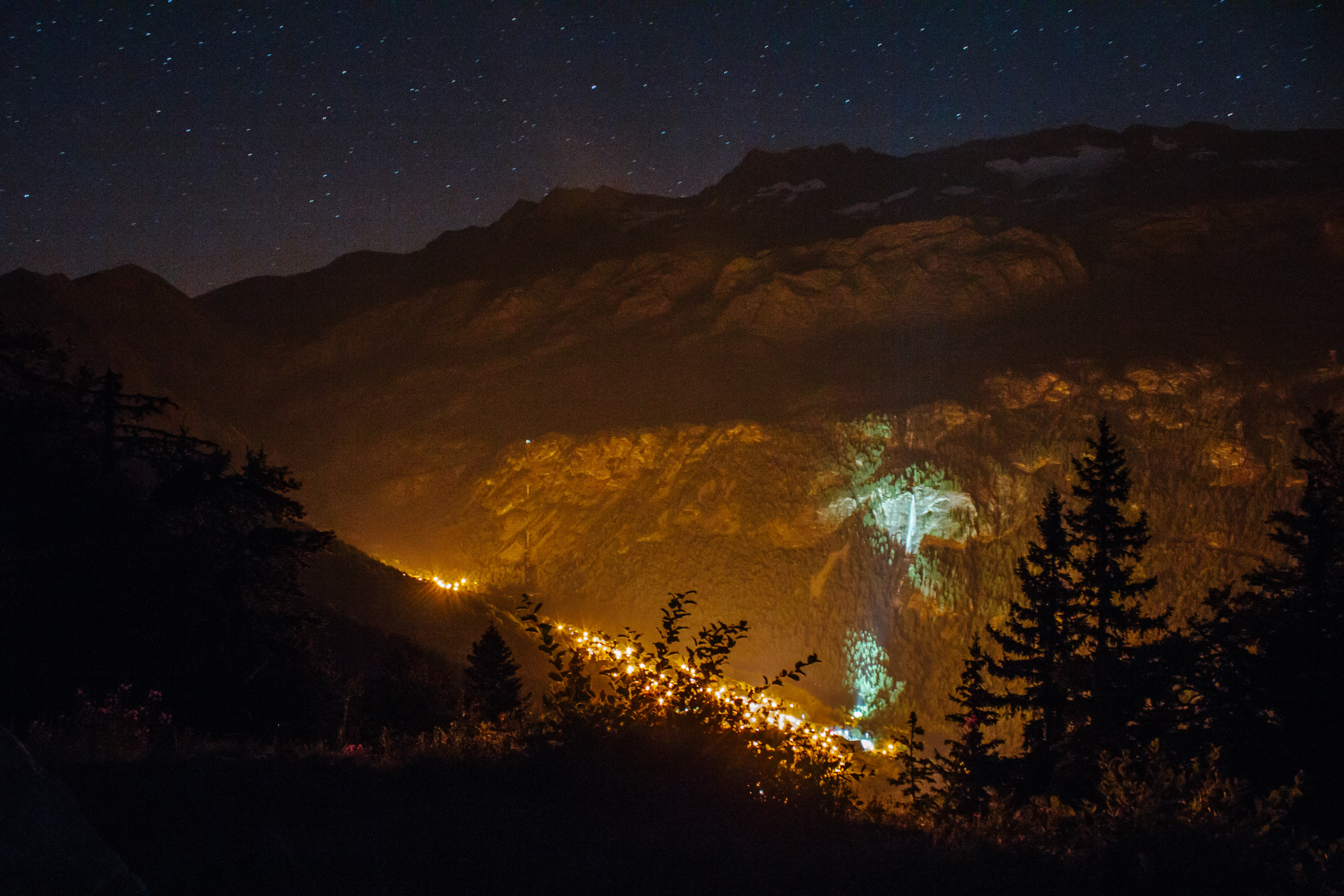 Arriving at Vaujany at night
Mountains are beautiful, even with thousands of active skiers during the day, but they can be dangerous at night and hard to navigate if you don't know the area well. If you're driving to the slopes, make sure to get there during daylight. Trying to locate your chalet during the night is not advisable.
If it's snowing then the complication factor increases ten fold... not only is visibility poorer but you have to fiddle around with snow-chains, these are difficult enough to fix in place during the day. You'll also have to attach them without gloves… the mountains are a pretty cold place to be, especially at night and this is not what you want to be doing.
Bring the right gear
If you've never visited a mountain resort before, make sure to prepare for the climate. Keeping your body temperature at a happy medium is very important for comfort. Breathable base layers made of high wicking material are ideal. They keep you cool when it's hot while simultaneously getting rid of any sweat, and they keep you warm when it's chilly. The best advice is to wear many layers of clothing. You can easily take a layer off or put one on to regulate your body temperature. More information can be found here.
A waterproof jacket is a must, whether it be a shell or an insulated ski jacket, if it soaks up the moisture from the air/slope/snow then it's going to make you damp and uncomfortable. If you love your gear or can't afford new gear and want to get another season out of them, you can treat your outer layer with some type of waterproof spray/solution. (NixWax)
Tick list of what to wear on the slopes (and therefore bring!)
Long socks
Long Johns
Salopettes with belt
Base layers
Jumper/fleece/hoody
Waterproof jacket
Gloves (and perhaps inners if you feel the cold)
Neck buff
Helmet
Hat (for lunch time and relaxing on the slopes)
Goggles
Sunglasses
Suncream
Pack Strategically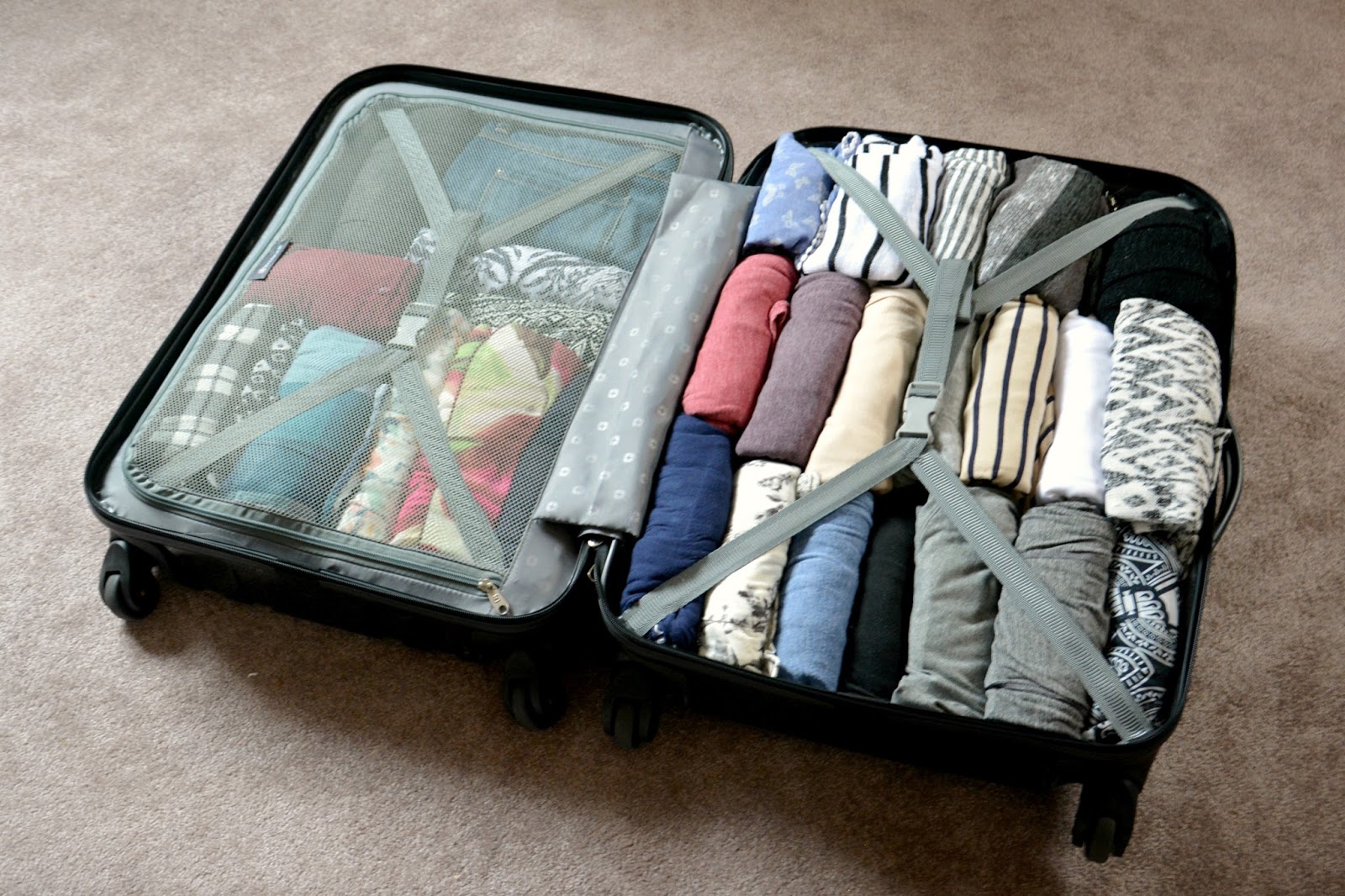 Be clever with your packing and bring only what you need. Roll your clothes instead of folding, this saves on space and ensures they don't wrinkle. Fill all voids such as shoes with socks, cables, chargers and anything that might need an extra layer of protection like suncream and shower gel. It's hard enough packing for summer holidays and keeping it light but with everything else that a winter holiday requires, packing is key.
If you're travelling by plane and are at the limit of your luggage allowance we recommend wearing your ski jacket and fill the pockets with other heavy things, it's amazing how much more you can take with you if you squeeze every little bit of space. Having toiletries in a plastic bag and easily accessible helps when going through customs. Check out these handy tips.
Pick The Right Equipment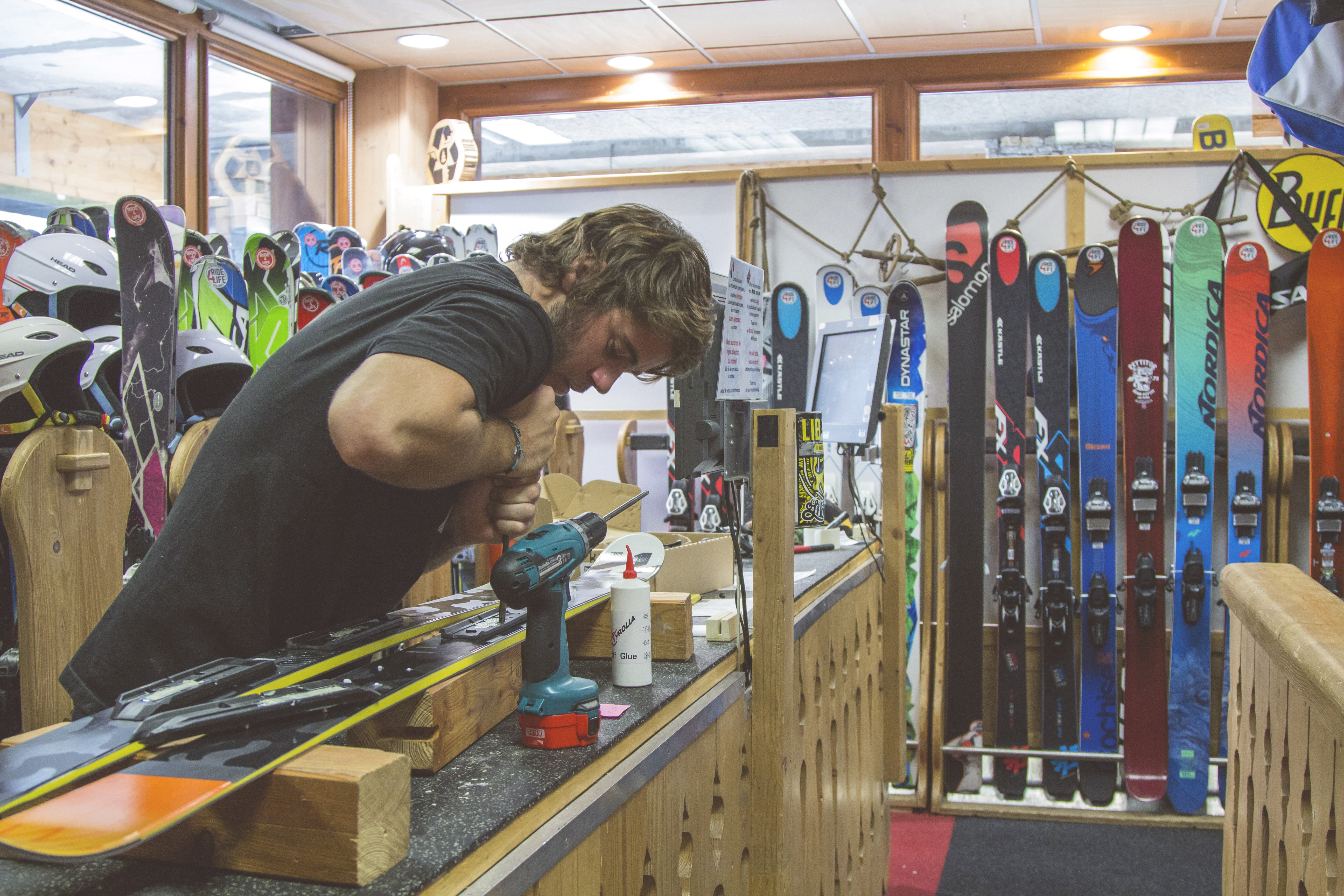 Ride4Life ski shop at your service
Choosing your ski equipment is one of the most exciting things to do both for newbies and for long-term skiers. What you need depends on your experience, type of skiing you want to do and of course…budget. For those that often get on the slopes and have the money, buying is often the best solution as you can do your own research and get exactly what you want in advance. You then know what you're working with. You'll progress faster on something you know well and you'll treat them with care. The alternative option is to rent. If you go once a year, this is probably the best idea. You invariably get new equipment if you're budget can stretch to the premium level.
Either way, there is one piece of equipment that is of extreme importance for skiers - boots... you can borrow all the rest. If you enjoy your first time and look to go again next year and thereafter, think about investing in your own boots that fit you perfectly. Don't waste your time second guessing if wearing a helmet is important... it is.
Travel Insurance
Your normal travel insurance may not cover winter sports as it's far more of a risk compared to a beach holiday. It's advised to check with your provider before embarking on your trip to ensure you are adequately covered, both on and off the piste. In the event of injury or any form of accident on the mountain it is of utmost importance that you have the necessary cover. Knowing that you will be brought safely off the mountain by the piste patrol is very reassuring.
If you need to obtain ski travel insurance then we recommend MPI Insurance, the local ski and travel specialist which will ensure that you can go skiing with peace of mind!
Sunglasses and Goggles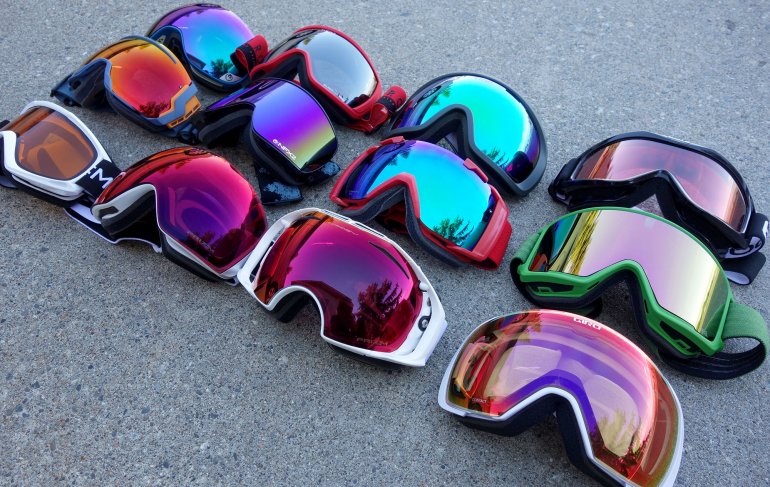 Having these is of the utmost importance. Simply for the fact that adapting your eyes to the snowy scenery is a hard thing to do, especially if it's your first time. You are closer to the sun so the rays are stronger... not only that but they feel brighter; the sunlight reflects off the glistening white surface of snow, doubling the intensity.
Whether you use goggles or sunglasses, it's down to your personal preference and perhaps the weather. Personally, I prefer skiing in goggles as they offer more protection from the wind and give you a larger protected viewing area. Another benefit is that you can change the lenses to adapt to the conditions in hand. Sunglasses are great for lunchtime on the terrace and when on lifts as you can cool down quicker without goggles while still protecting your eyes. Many people prefer using sunglasses all day long though.
Protect Your Skin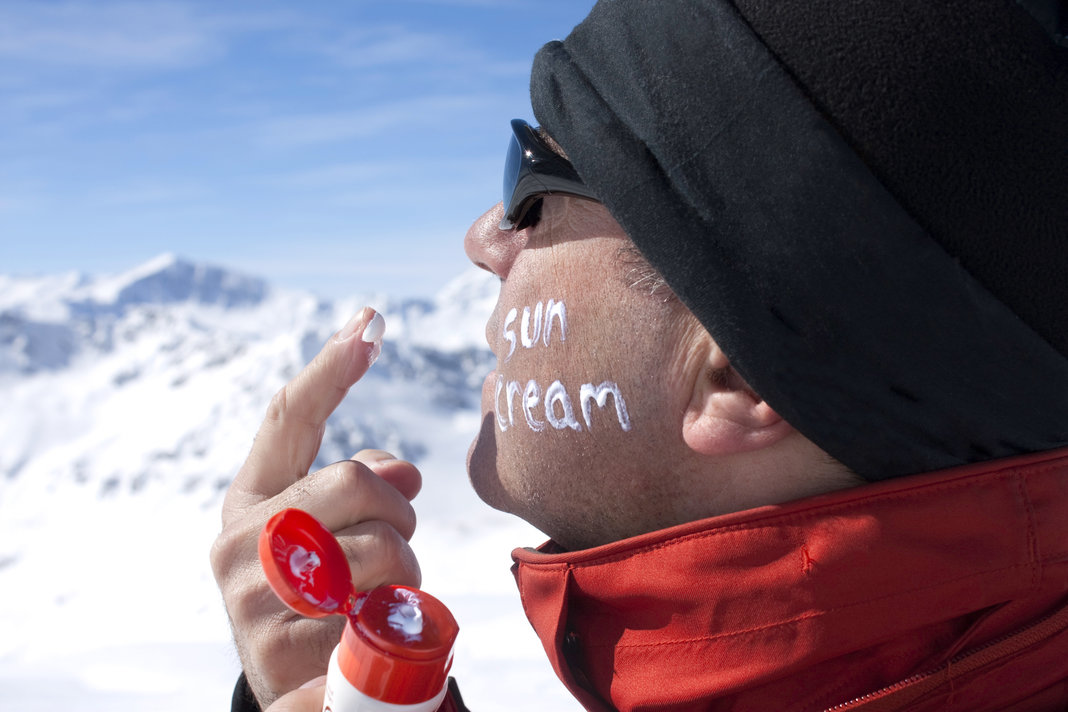 Again, you are closer to the sun so the effect of the sun is stronger. It is imperative therefore that you apply sun cream to the areas which are not covered by clothing; your face and neck for example. Sunburn is very uncomfortable and will not help the condition of your skin later in life. Getting sunburnt just once every two years can triple your risk of melanoma skin cancer.
Even if there are clouds above, UV rays penetrate this cover and still effect your skin. Don't be fooled if you can't see the sun. Children's skin is more fragile than adults and should therefore be wearing stronger protection and apply it more frequently.
Stay Energised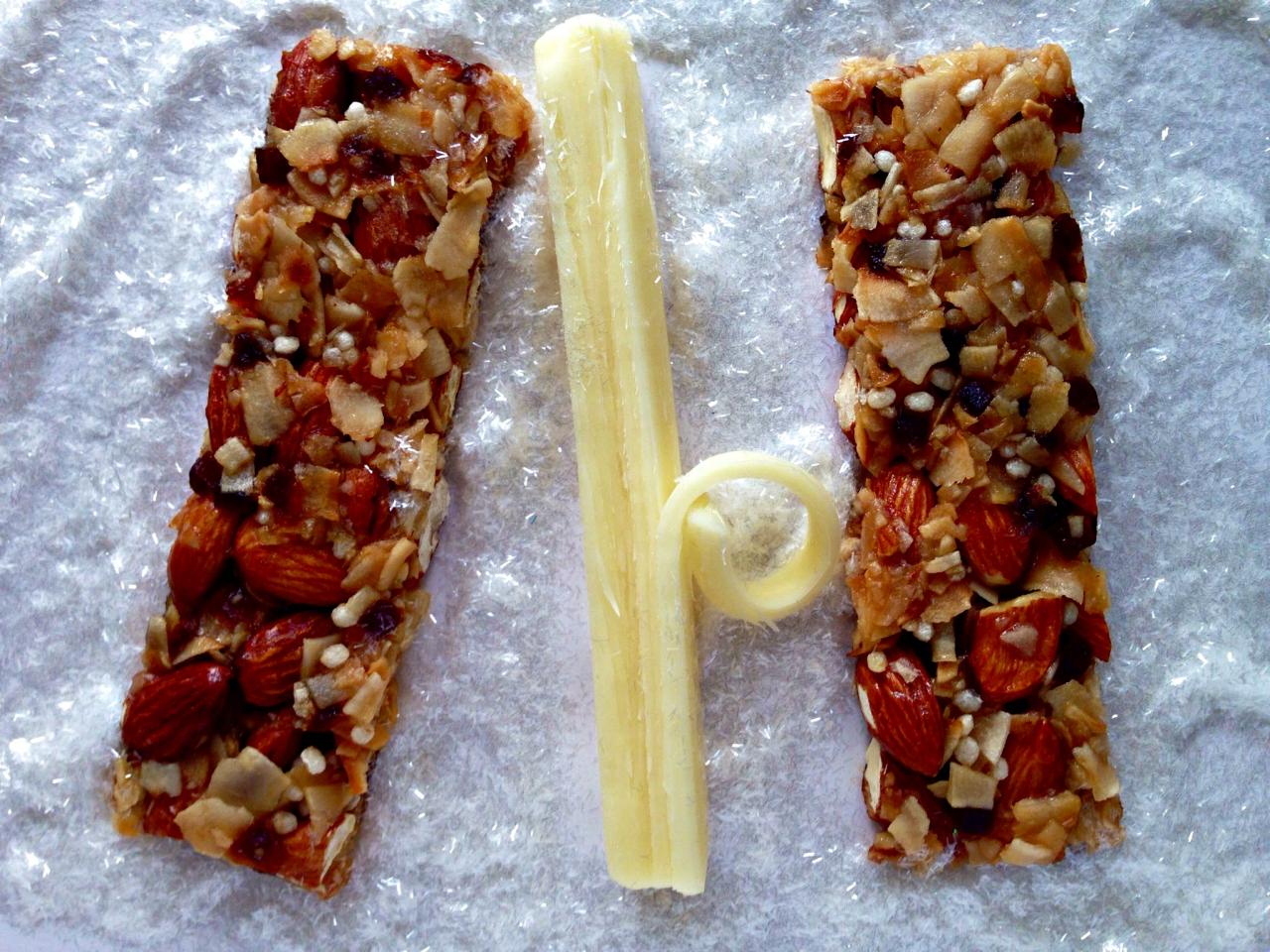 Before you set off for the days excursion, with so much physical activity involved, it's recommended to have a hearty breakfast, think; porridge, eggs, nuts, fruit, yogurt, vegetables (not all at once of course). Keeping energy levels up during the day and being prepared is important, no-one likes to be dehydrated! Carrying a water bottle and having a few rations can prove to be lifesaver, not just for you but others in the group.
If it isn't pic-nic weather and you like to splash out whilst on holiday, you can refuel at some of the local mountain restaurants. If you have a medical condition like diabetes then it's even more important to injest the right things to ensure your body works as best it can.
Get Fit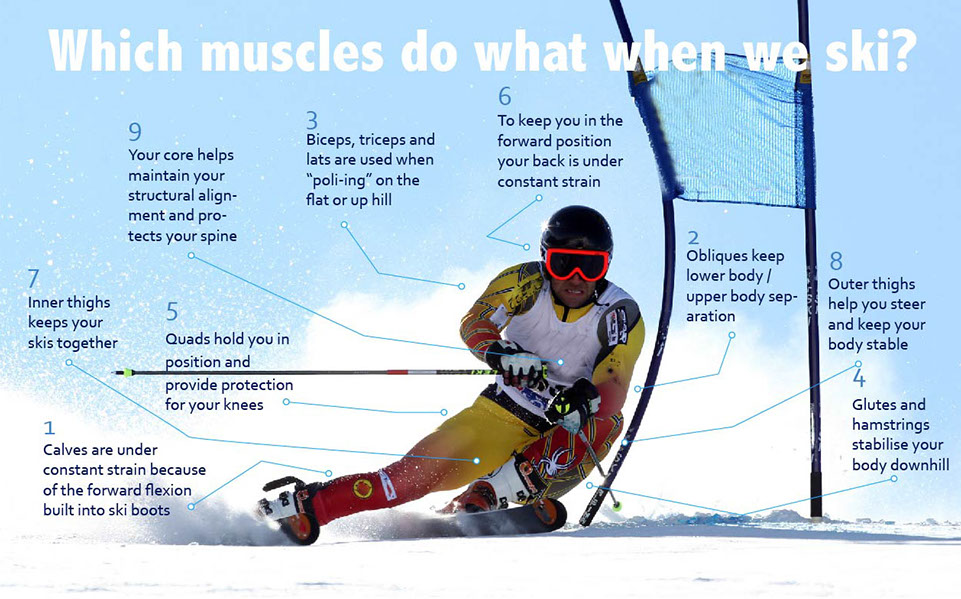 If you haven't already, then you should really think about getting your body and mind into shape. Skiing takes a lot of energy and there are many challenges throughout the day so preparation is key. It's an endurance test of sorts, although a lot more fun and actually very good for you! Your muscles are under a lot of pressure to perform at 100% for long periods of time. If you're not prepared your body will simply not perform as you want it to.
At the same time, skiing is a great exercise and will make you feel much better. For detailed help on what to do in preparation, have a read of this article from the Telegraph. If you're running a little tight on time then try the two week plan.
Plan for your winter holiday
Consider all the elements above when planning your winter holiday and it should run seamlessly. Whether you're looking to explore and just dabble at winter sports or you want to throw yourself into it, take care and enjoy yourself... There's a lot of benefits to a winter holiday.