Off Piste
This is something totally different. As yet, very few skiers have discovered the gem that is Vaujany's amazing back country terrain. Those of us that have experienced it know it is something special. Need a guided? Book
Denis Ailloud,
from
Pure Ski Guiding
'Backcountry playground Yeh!'


Vaujany is very close to La Grave – Europe and perhaps the world's most famous off-piste ski area. Yet often we meet La Grave guides skiing in Vaujany. Why? Because off-piste conditions are often better than on the notoriously fickle La Grave slopes.
Check out some videos here
---
Les Massif Des Grandes Rousses
The layout of the mountains around Vaujany is a very happy coincidence. The huge Massif des Grandes Rousses towers above the village to the north-east, creating a freeride paradise for those "in-the-know". The good news is that in France it is still perfectly legal to take responsibility for yourself and to ski outside the patrolled areas.

Warning:
Off-piste skiing is a wonderful experience but can be dangerous if you don't have the necessary knowledge and equipment. You can learn how to do it safely with a local guide. This is reasonably priced if you make up a group and includes the necessary extra equipment such as avalanche transceivers, probes, shovels etc.
We're always happy to help put groups together and to recommend a good guide. All the guides we know are UIAGM-qualified.
Please see our mountain guides page for contact details
*Please check that your insurance covers off-piste skiing.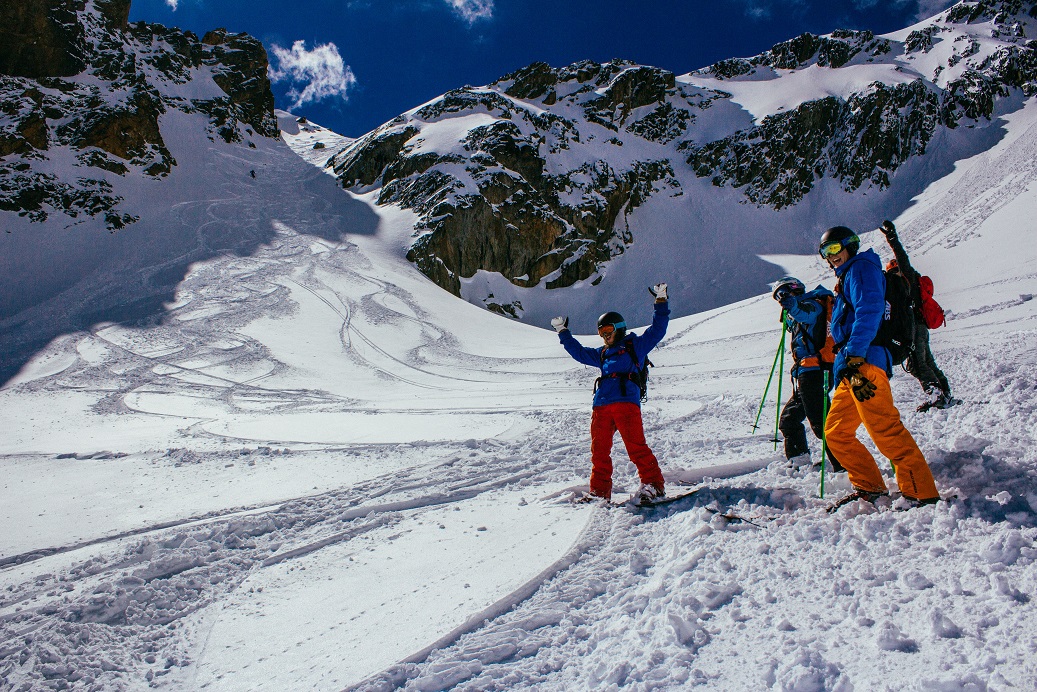 ---
A particular mention for the fantastic day of ski touring in an incredibly beautiful and peaceful natural environment

Allan Sichel, Chalet Saskia, 2018
Jaw dropping scenery when off piste and brilliant terrain. It appears to be 'unknown' as we hardly saw anyone on our outings!

Edd Jenner, Chalet Rostaing, 2018
---
Just to whet your appetite, here are a few options for a typical day's off-piste skiing in Vaujany:

From the Dome des Rousse at 2800m or from Pic Blanc at 3330m there is a playground of technical slopes to choose from...
La Combe du Loup
(Valley of the Wolf). This is beautiful, wild country with excellent views across to La Grave and the spectacular La Meije. The first pitch is a steep, wide bowl and often has excellent powder. Great natural "half pipes" and undulating terrain take you through many kilometres of powder-bowls. It's likely you'll have the place to yourself. Once, as we ate our picnic on a sunny rock-outcrop, we saw a wolf – later the locals told us they are gradually returning to this part of the Alps.
Great powder on the Piefroid
Traverse over and a short walk up to the ridge this lovely couloir appears. Not too steep this one, but a great feeling as we start the descent, bearing right into another untracked bowl with great views down to Clavans. One option is to continue down to this charming village and have lunch at the refuge there
---
Pyramide from Pic Blanc at 3300m.
This time we cut left and pass the warning signs by the fence that remind us that we're off-piste again and responsible for ourselves. Over the cornice and a dramatic traverse across the Grand Sablat glacier, we stop and fasten our skis to our backpacks for the 25 minute walk up to Pic de la Pyramide.
The top is a magic place to stop and gaze down at little Vaujany over 2000m below us, and anticipate the long runs ahead. There are many routes down from here and by now the sun has worked its way around so that the light is perfect, yet the snow still cold and powdery.
The Pyramide cornice has intimidated quite a few skiers but once you're over and onto the slope, the snow is often so good that confidence quickly returns. It's steep but on to exhilarating skiing, then gradually the going gets easier as the huge Glacier des Rousses comes into view. We stop and admire the view from one of the rocky outcrops on the far edge before...
The P10 Couloir
This is only one of several interesting routes back to Vaujany. It has a narrow start, widening out with a nice steep lower pitch then an amazing natural half-pipe to finish, finally we emerge above Vaujany's Montfrais powder fields and pistes with an easy run home.
---
Roche Melon
This scenic itinerary is still listed as a piste but in fact is now a lovely open off-piste route through trees, open meadows and gulleys, often with excellent powder.
We can supply an off-piste guide book, written by qualified mountain guides, detailing the off-piste in Vaujany, La Grave and Alpe d'Huez. Ask for details. In English and French (maybe in Swedish soon!).
---
Others
| | | |
| --- | --- | --- |
| Couloir 263 | Canyon de La Fare | Couloir des Pioches |
| Couloir P10 | Epaule de La Fare | Combe du Cerisier |
| Couloir P13 | Pont (refuge) de La Fare | Combe du Loup |
| Couloir Lucette | Grandes Rousses Traverse | Piefroid |
| Pic de la Pyramide | Les Cheminees de Mascle | Chapelle St Giraud |
| Col d'Impossible | Le Col de l'Herpie | Combe du Bras |
| Couloir Fleur | Les Cotes de Rivets | Radar |
| Col du Couard | Maurienne/Pic d'Entendard | Tete du Serre |
| L'Agnelin/Diabolo | Lac de Quirlies | La Crête de Charbonniere |
| Perrin Sud | Le Grand Sablat | Roche Melon |
| Perrin Nord | Glacier du Barbarate | Glacier Saint-Sorlin |