Golfing In The Oisans
If you're a traditional long-time golfer, the French Alps aren't the first thing that would pop in your mind when you're thinking about your next golfing trip. But that's because you probably hadn't thought about it from a different angle other than huge green fields with never-ending spaces. Think about teeing on misty terrains with a quiet breeze surrounding you, mountains and lakes catch your eyes everywhere you look. Golfing in the French Alps wasn't popular a few years ago, but right now it's gradually becoming a famous and well-visited golfing spot.
Sounds rather splendid right? If you want to try the greens on offer for yourself, we have the perfect accommodation for you to stay in. There are self catered properties to choose from and one catered option, at the luxurious Chalet Saskia. If you are ready to explore this opportunity with us, then please answer 6 short questions on our survey. We'll then know what you're after and can help you organise everything. If you need more temptation, read on!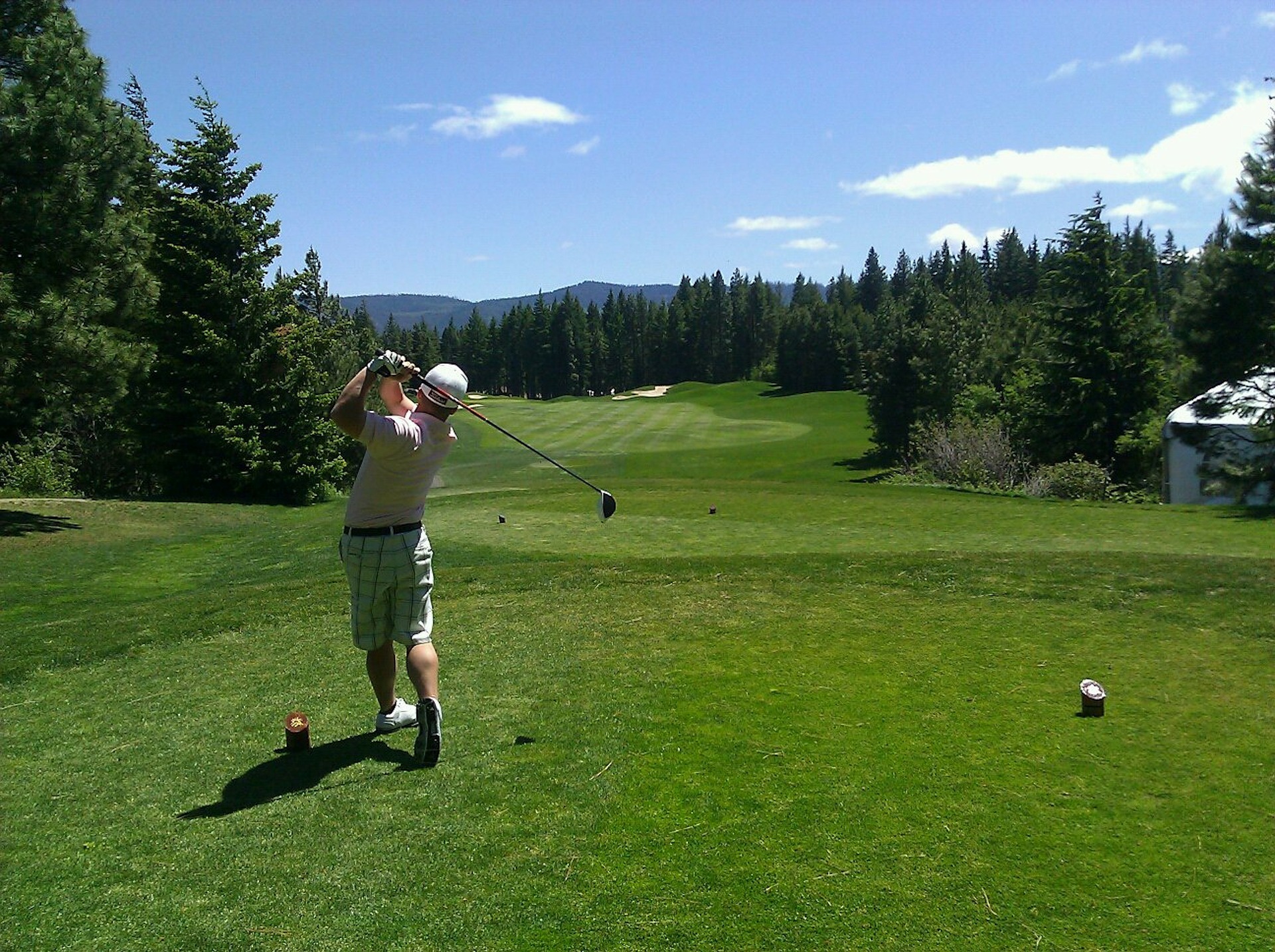 Photo credit - David Mark
The amount of golf courses in the French Alps is slowly increasing. You can find family-run 9-hole courses on beautiful terrain, and if you're feeling really competitive, you can also look for some of the world-class championship courses. The Oisans is known to be a popular holiday retreat in the summer; with hikers, mountain bikers, climbers and a lot of cyclists conquering the famous cols and climbs, such as Alpe d'Huez. In the winter it is a haven for skiiers and snowboarders. These are all very active activities... but there are also relaxing things to do and sports which don't require as much energy. You can be sure that when you visit the Oisans, you'll have a lot of fun with the wonderful activities on offer.
Where to Stay
The Oisans is a very large terrain, it has over 22 villages and resorts, each one have varying and different fabulous views. No matter the size, access, and amount of sunlight that you're looking for, you'll find somewhere very special, offering everything you need. If you're interested in discovering and exploring the area, you'll find villages in the valley and up high in the mountains. Allemont and Bourg d'Oisans are the most famous two villages in the Oisans plain; these are good from shops, transportation routes starts and various local services.
Villages that are at a high altitude such as Vaujany and Villard Reymond differ from villages on the plain; they have their own charm of authenticity and natural atmosphere. You may not find as many services up there as you'd find on the plains, but the majestic, awe-inspiring views are definitely going to keep you captivated for the duration of your stay... You should expect more sun exposure at higher altitudes!
Golf Club des 2 Alps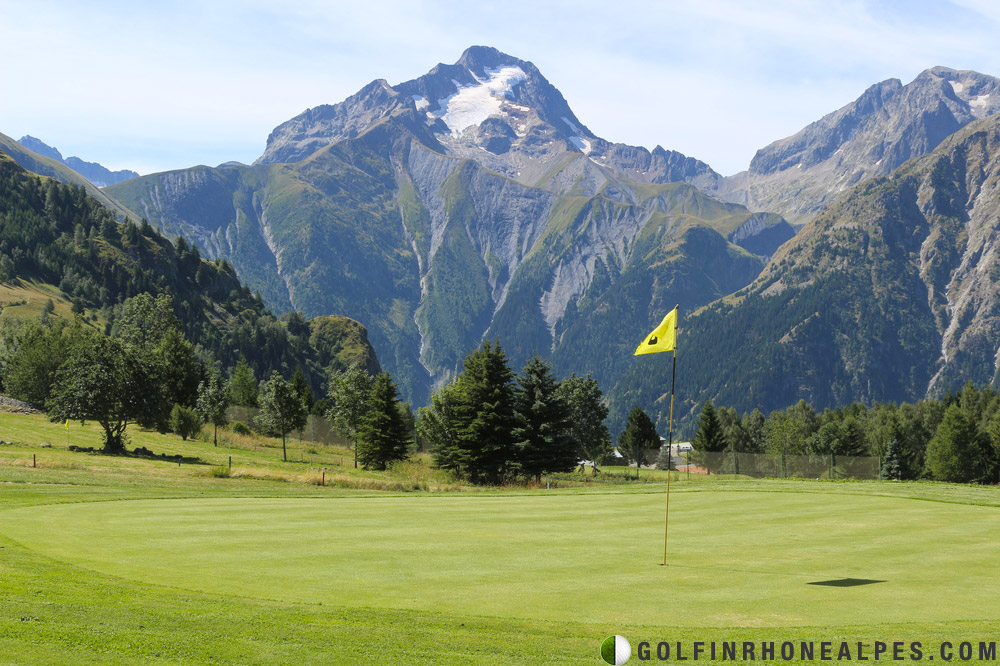 Photo credit - Golf in Rhone Alps
With a 9 hole golf courses and a practice area, the Golf Club of 2 Alps is considered the biggest golfing area in the Oisans. What makes the 2 Alps attractive is the scenery. Seeing the snow caps of the Ecrins mountains is going to feel very profound while you swing at the ball. Expect high-angled slopes and an unorthodox terrain. If you're in for the long game, they have packages that could last for the whole season. If you're just there to play a game or two then it's perfect. There is no shortage of competitions there either, with pro golfers making guest appearances.
Alpe d'Huez Golf School

Photo Credit - Alpe d'Huez Golf
There is no shortage of resorts or villages in Oisans to stay in, but golf courses may not be as common as you'd think. The best thing about Alpe d'Huez Golf School is that it's not just a course, you can hone your skills no matter how good you are. There are some great amenities around the school; a driving range, pro-shop, and a snack shop. If you're new to golf, you won't feel way over your head. at all. You can rent or buy equipment and get private lessons from their trainers. If you're feeling competitive, there are friendly competitions being held every weekend; no pressure, but you'll have a lot of fun! Expect a beautiful views and some laid-back golfing.
Vizille - Uriage Golf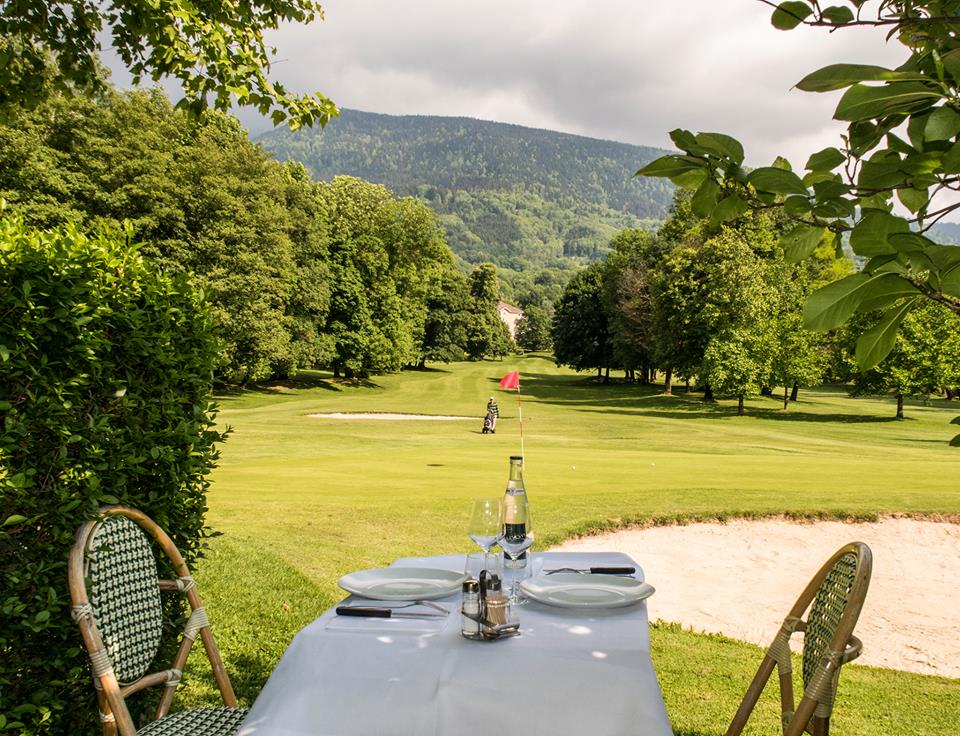 Photo credit - Golf d'Uriage
Slightly further away and not classed as the Oisans (but worth mentioning), this course has been operating since 1921 and is very close to the Chateau des Alberge (Vizille). In fact it is in the former grounds of the Chateau, a beautiful building highlighting the rich history. The course is the largest of the area, open all year round and is incredibly well maintained. Whatever your level, the course of Uriage will seduce you, it is both technical, physically accessible and is shadowed by the beautiful mountains of the Chamrousse. The club offer demo days, competitions, a golfing shop and a lovely restaurant, overlooking the final hole.
Getting Ready
Photo credit - Pixabay
If you like golfing and don't feel like taking a plane to the Alps or going to a sub-par golf course nearby, Mini golf is a great way to get your eye in and hone in on your skills. There are many dotted around the area too. For those staying at home, an indoor putting green is a great solution. Installing one requires your own understanding and analysis of your style; what style of roll do you need, the grain, and the speed. Tailoring the right one can make you get in touch with the pro inside you, you'll have the advantage of extremely targeted practising to overcome any shortcomings in your golf game. You can also read about the most effective exercises to get in shape for golf
A New Golfing Experience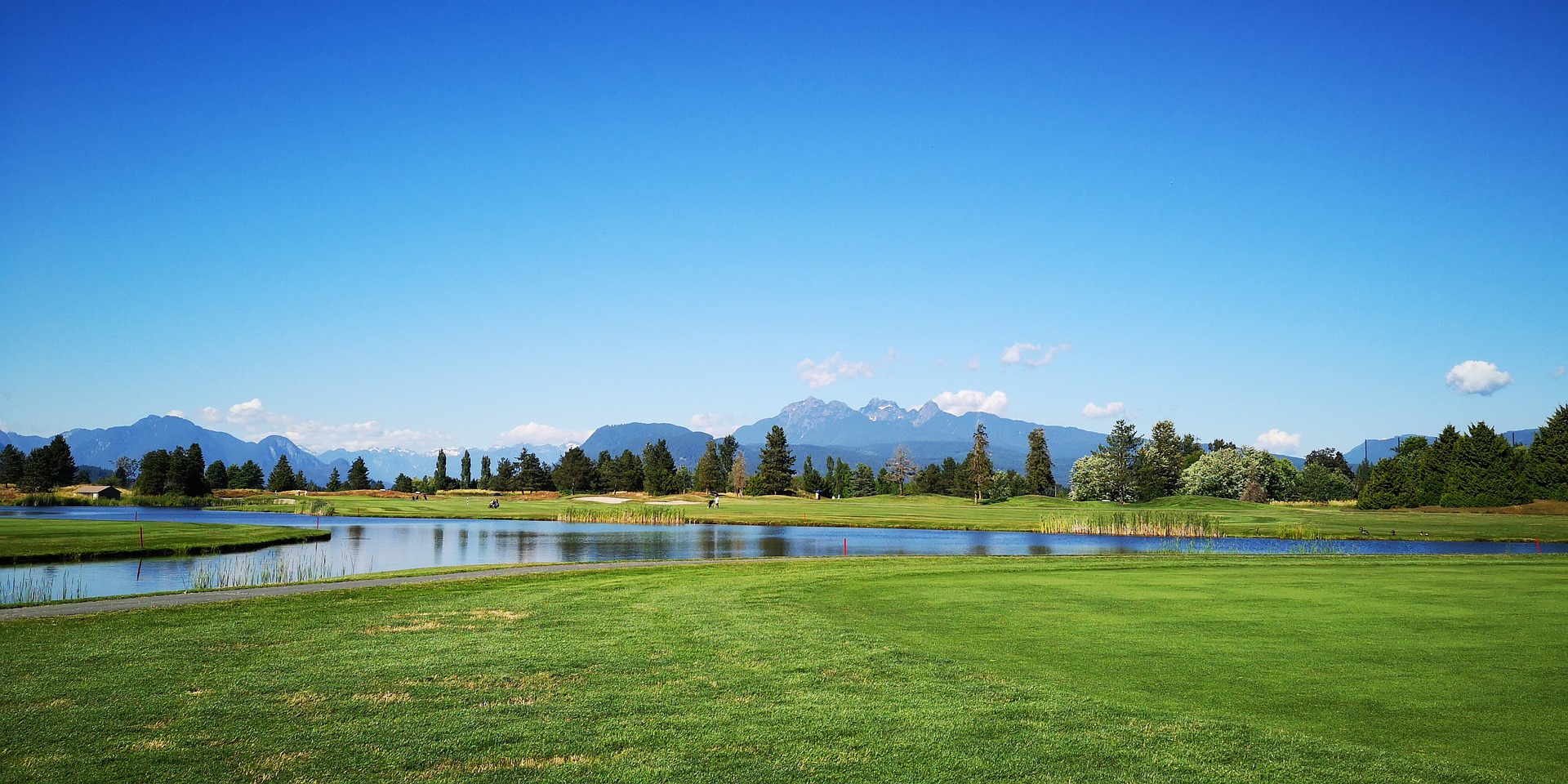 Photo credit - Tony Wang
Golfing in the Oisans is an exuberating experience, and it's very fulfilling at the same time. The sight of snowy peaks and massive green fields will make you stop and ponder about the beauty of nature; your golfing will become more profound, fluid and connected to the outside world, more than you'd ever thought it would be.
Ready to get out there and try it for yourself? Complete our short questionnaire and we'll get the ball rolling in the right direction!