5 Reasons To Choose The Oisans Valley For Your Cycling Holiday
Over the years we've had many characters stay with us. From the outdoorsy family types through to adventurers and of late, groups of keen cyclists, some of whom have cycled all over the world. One thing that is constantly repeated is how astonished they are with how much the Oisans valley has to offer... It really does stand out a cut above the rest. If you enjoy cycling, it's somewhere you really should visit; you'll love it!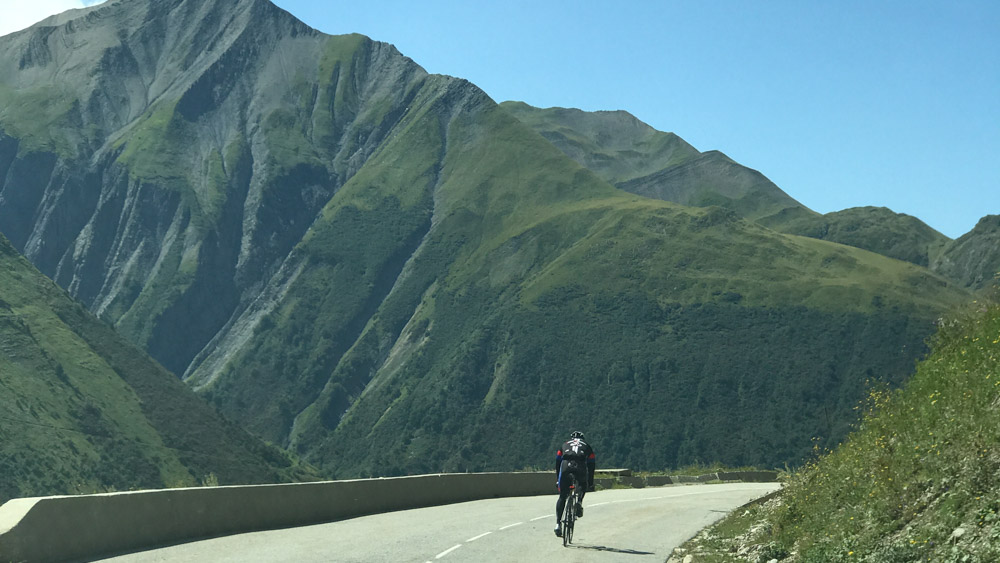 Before we tell you why, perhaps you're wondering:
Where is The Oisans?
The Oisans is an area within the Isère and Hautes-Alpes regions of south-eastern France. It comprises of six different valleys which tend to be referred to collectively as the Oisans.
Depending on exactly where you're going in the Oisans, it's about an hour from Grenoble airport, 1.5 hours from Lyon airport and 2.5 hours from Geneva airport. The closest SNCF train station is in Grenoble; you'll need a bus or taxi from there, which we are happy to arrange for you.
Why visit?
The Oisans is most famous for being home to cycling's legendary Alpe d'Huez 21 hairpin bends. But there's more to this area than just the big-name climbs. Our dedicated cycling pages on our website are a brilliant resource but if you want more knowledge and help then look no further... we've teamed up with Clare Dewey, the founder of Epic RoadRides, the travel website for road cyclists. You can find her beautifully presented, free cycling guides that contain tried and tested route descriptions with café stop offs and GPX downloads.
Her free guide to cycling the Oisans region has tons of information to help you plan your holiday.
If you're already interested in coming away then fill in some details here and we'll get things on the move. Otherwise, read on for the five reasons we love being in the Oisans.
1. World-famous cycling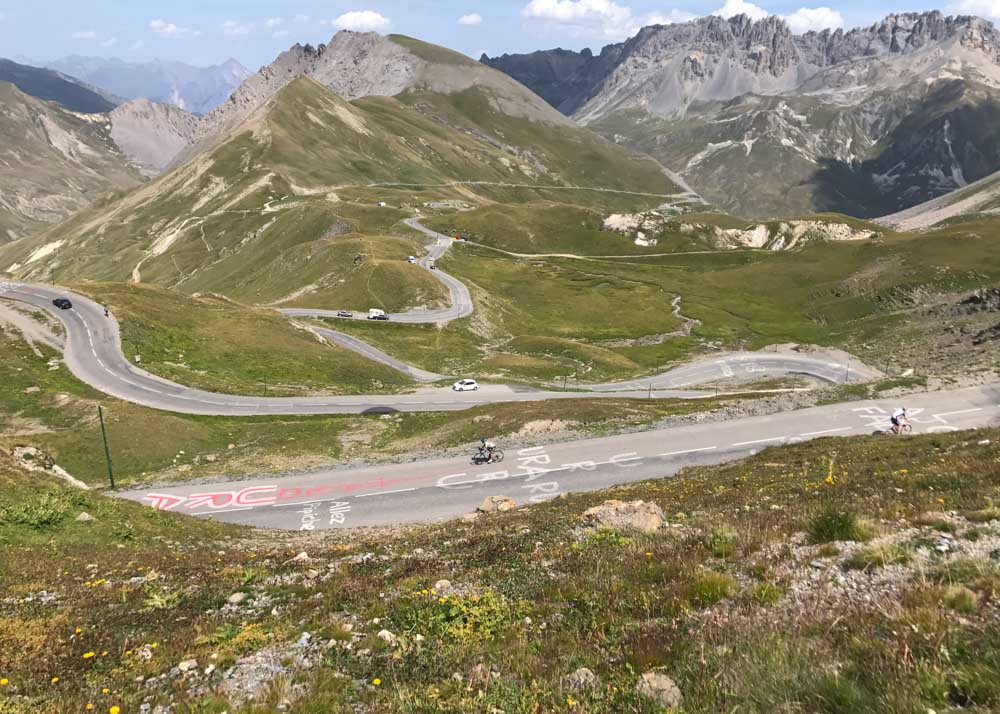 View from the summit of the Col du Galibier, looking north towards Valloire
This compact area contains some of the best known, most revered climbs in cycling folklore: Alpe d'Huez, Col du Glandon, Col de la Croix de Fer, Col du Télégraph and Col du Galibier are all within easy reach.
The bends and switchbacks of these roads are steeped in cycling history and are often part of the Tour de France's most decisive stages. Indeed there's a legend that whoever wins on Alpe d'Huez will win in Paris; look what happened this year with Geraint Thomas who was the surprise winner on Alpe d'Huez and then took the General Classification win too!
With all this heritage, many keen cyclists feel the Oisans Valley is somewhere they need to visit in order to ride the famous mountains themselves.
2. Oisans Col Series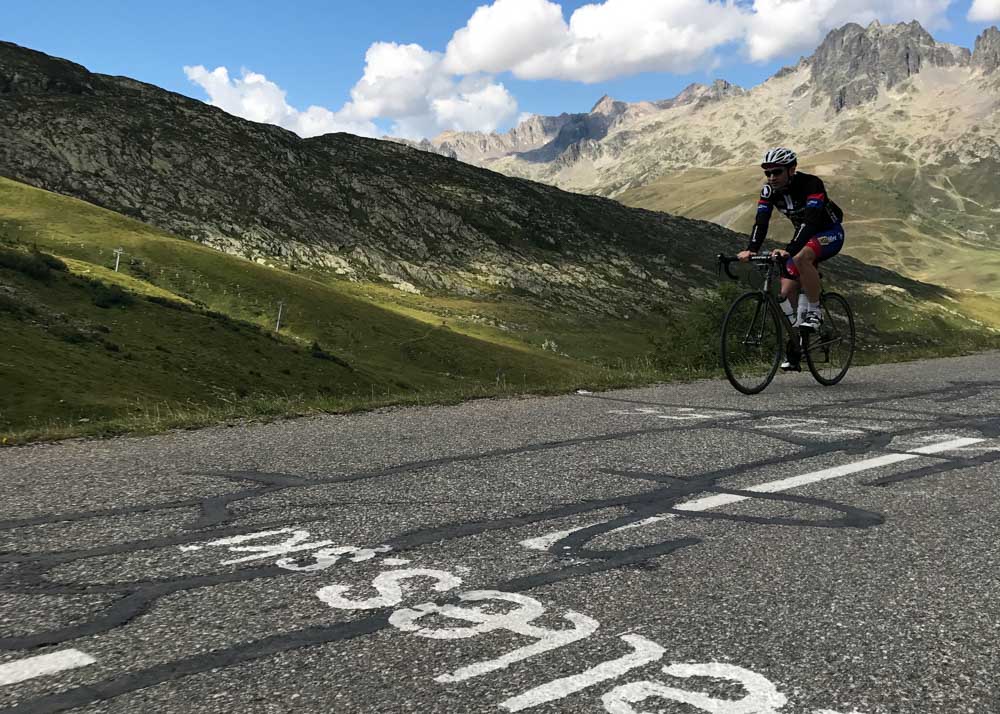 Cycling the Col de la Croix de Fer
On certain dates in summer each year, some of the most popular climbs are closed to motor vehicles. No registration is required and there's no departure time - it's not a race.
In 2018, the Oisans closed road series included Alpe d'Huez, Col de la Croix de Fer, Col du Glandon, Col d'Ornon, Col de Sarenne, Col du Sabot and Col du Galibier.
If you're planning a trip to the Oisans, it's well worth trying to time your visit to coincide with one of these events. Riding without motor traffic is the icing on the cake with the potential to turn a special ride into something truly unforgettable.
There's more information on the Oisans Col Series here.
3. Easier rides and hidden climbs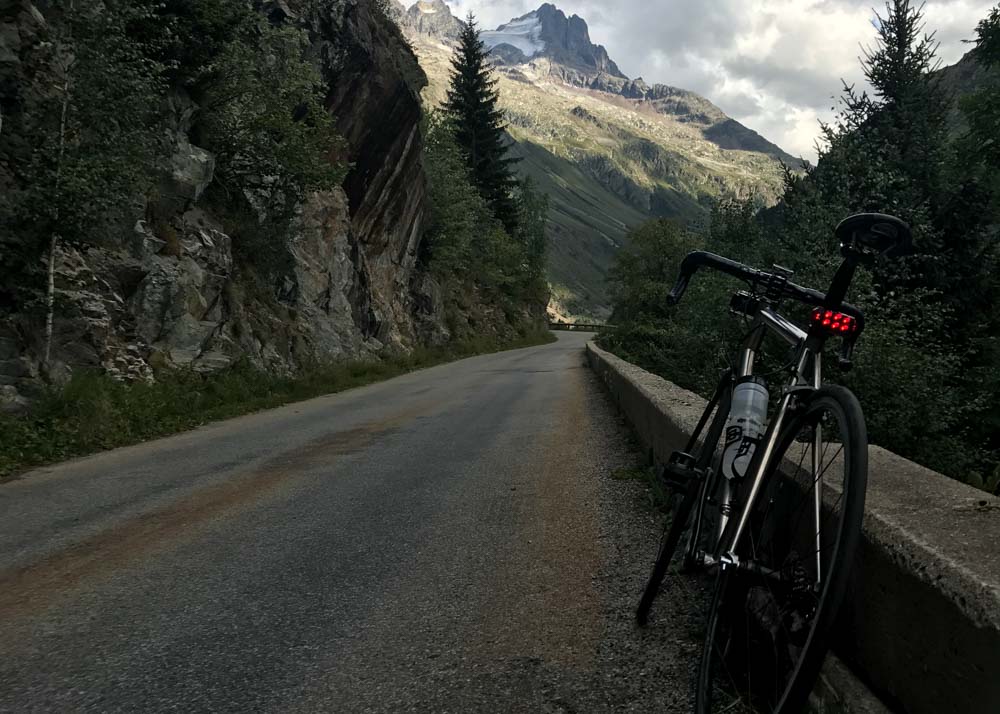 The unforgettable road between Saint-Christophe-en-Oisans and La Bérarde
Unlike many areas of the Alps, the Oisans offers a good variety of rides that take in lesser known climbs and/or routes with climbs that are more gentle than the "big names".
These are great for rest days - or simply if you're looking for a less punishing cycling holiday!
The Col d'Ornon includes the optional itinerary of little known Oulles, a beautiful but hard climb, as well as the quiet and peaceful countryside of the Plateau Matheysin. For an easier ride, we love heading up to La Berade, an inspiring 26km climb into the Ecrins National Parc with a short steep climb in the middle.
4. Watch the Tour de France or take part in a Sportive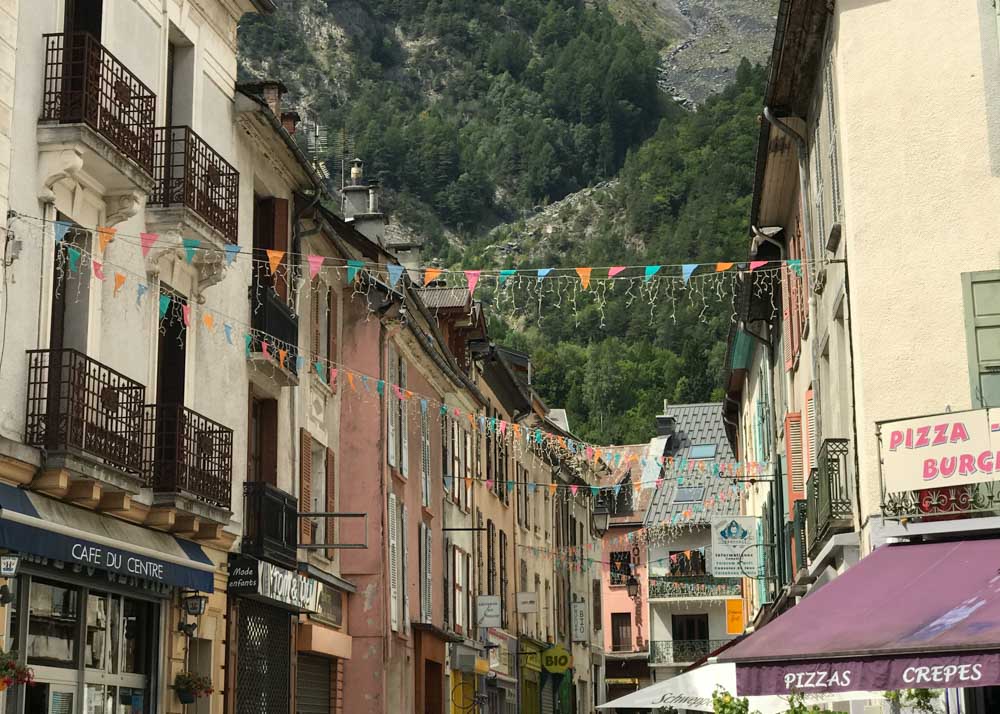 The pretty town of Bourg d'Oisans is often a stage town in the Tour de France
The Tour de France is a frequent visitor to the roads of the Oisans. Bourg d'Oisans is frequently a stage town as the peloton generally passes through before it goes up Alpe d'Huez.
Being in Alpe d'Huez on a Tour de France race day is an experience that has to be seen to be believed. Devoted cycling fans cover the asphalt. The seventh bend is a sea of bright orange, partying Dutch cyclists. There's a festival atmosphere, a cacophony of cheering and alcohol, fancy dress and passion for cycling.
Even if you can't make the Tour de France, why not visit the area to take part in or spectate one of the other big events?
There are loads of iconic sportives to choose from: the Etape du Tour is often held here, while the Alp d'Huzes (in aid of a Dutch cancer research charity), Marmotte and Haute Route Alps are annual fixtures, plus our local 'La Vaujany.'
5. Lots of non-cycling activities too!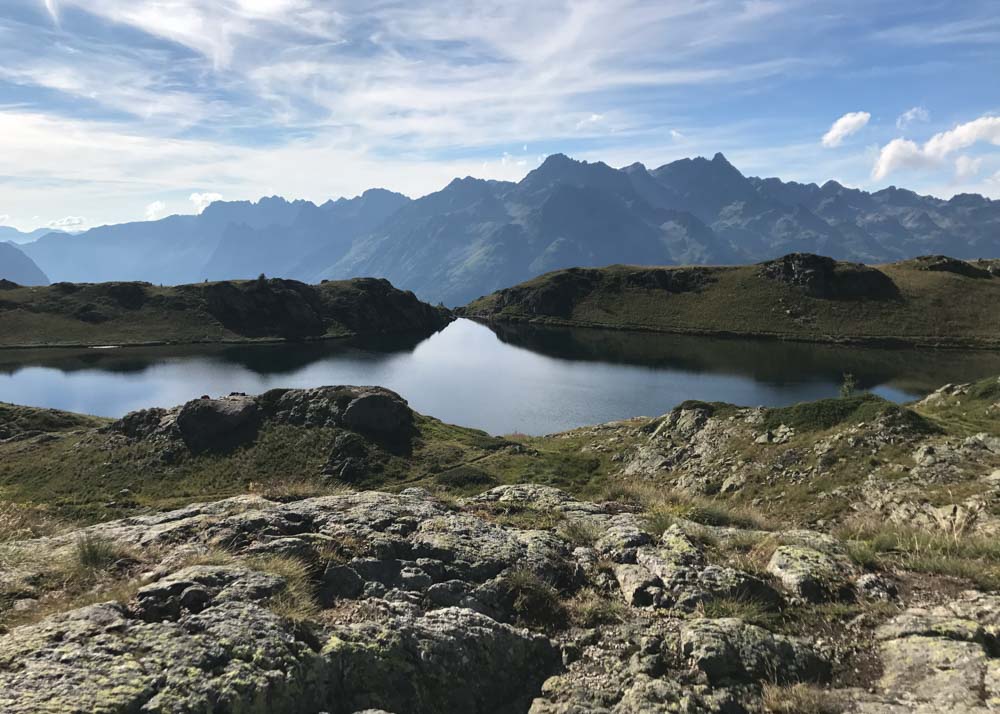 The serene Lac Besson, above Vaujany
While you're probably happy just chilling out on a sofa or sun lounger after your ride, if you're with kids or non-cyclists, they'll be looking for non-cycling related entertainment!
Though this is a very rural area, its popularity means there's lots to do other than cycling.
For those into hiking and mountain walking, there are world class trails at France's largest national park, the Ecrins National Park. Close to Vaujany, the Col du Sabot trail gifts a great view of Mont Blanc at the top.
Other easily arranged activities include fishing, white water rafting, kayaking, paragliding, via ferrata, climbing walls, horse riding and glacier walking. Kids and adults alike will enjoy the adventure parks scattered through the Oisans, with their zip lines and high ropes.
For the odd rainy day, the leisure centres in the main towns are excellent. The larger ones, such as that at Alpe d'Huez and Vaujany are particularly good, including slides, kids' pools and spa activities. Vaujany also has an ice skating rink and bowling alley.
Want to plan a trip?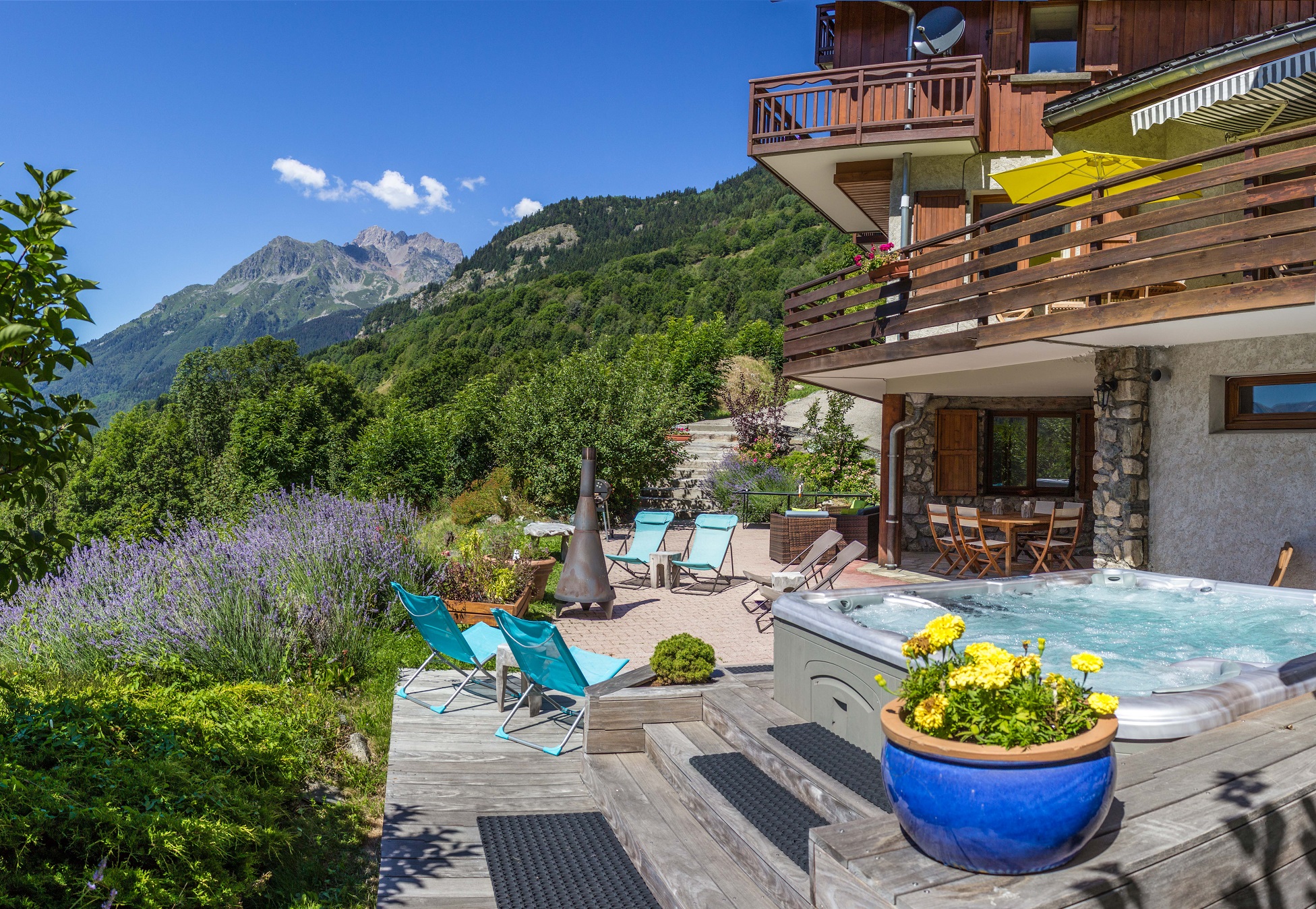 The wonderful Chalet Saskia where you want for nothing
Hopefully this article has left you feeling inspired to visit the Oisans region! If so just complete our enquiry form and we'll get back to you today.
We at Peak Adventures have been operating in Vaujany since 1988, the longest operation in resort. We have the fantastic catered Chalet Saskia to offer you, from June through to August… After a long day in the saddle; soak in our hot tub looking up at the La Fare waterfall or relax in our incredible sauna which has a view down the Romanche valley. We've even got a minibus and trailer should you need a pick up!
If you prefer self-catering, then Chalet Lucette and Chalet Rostaing are available from May all the way to November!